Gibson Country Style Jerky
SEE OUR GREAT VALUE XMAS BUNDLE MEGA PACKS – THE PERFECT XMAS PRESENT!
PREMIUM QUALITY BEEF JERKY
A Taste of the Wild West in Collie, WA
There's nothing quite like the taste of a good piece of jerky – it's a snack that's perfect for any occasion. And when it comes to quality jerky in WA, there's no better choice than Gibson Country-Style Jerky. Our family-owned business has been making delicious, high-quality jerky for a year now, and has amassed an incredible customer-base in the short time our family business has been open. We take pride in our traditional methods of preparation, using only the finest cuts of meat and a secret blend of herbs and spices to create a flavour that's simply irresistible.
Teriyaki is a brilliant unique flavour that gives you a subtle sweet and savoury taste, giving a bold and juicy flavour to every bite.
Hot Chilli is a classic for those who like the heat turned up! This pack will have freshly ground chilli flakes with a creamy yet heated chilli paste. 
Pepper steak & Garlic Jerky
Pepper Steak is a 'Best-Seller', and has a delicious pepper taste and a smoky undertone of flavour for anyone who adores the outdoor cooking flavours of a BBQ or smoker. 
Honey-Soy Garlic is a specialty, giving you a lovely taste of Sweetness mixed with the shaper notes of Garlic that get the sensations stimulated. 
Mild Chilli is for the spice lovers of an entry-level that want to experience the modest heat. This pack is carefully crafted with succulent home-ground chilli-flakes and a soft creamy chilli paste.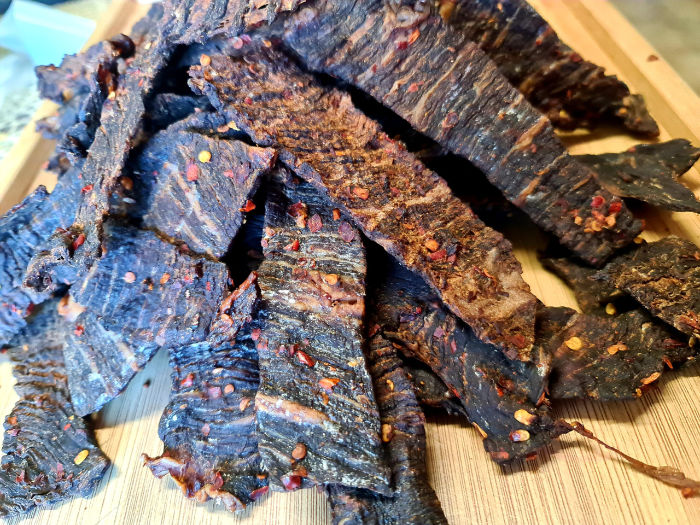 This pack gives you 50g of each flavour, and gives you the chance to taste everything in fun little tasting portions! Try it out and find out what you adore most from our selection!
"I'm a jerky freak and this is the best stuff I've ever had!...I love it so much I purchase it from Melbourne."
"Some of best jerkey I have tried by far. Really good texture not too dry or chewy yet not too soft. And really amazing flavour!"
"I tried Gibson style jerky and it was the best jerky. I highly recommend. Loved the honey soy and pepper steak.
"Visited the shop on the weekend and highly recommend! Lovely service and the jerky is 👌🏻 teriyaki was my fave! We will be back."
Now, you can purchase a gift card directly from our site and send it to your loved ones to shop our delicious jerky.
Gibson Country Style Jerky
The best in the South west