Gibson Country Style Jerky
The best in the South west
If you're an avid jerky-lover or just a beginner, it's got something for everyone, and we intend to keep bringing you the freshest, and fastest Jerky for great prices that support local farmers and suppliers who help us make this business happen
Teriyaki is a brilliant unique flavour that gives you a subtle sweet and savoury taste, giving a bold and juicy flavour to every bite.
Hot Chilli is a classic for those who like the heat turned up! This pack will have freshly ground chilli flakes with a creamy yet heated chilli paste. 
Pepper steak & Garlic Jerky
Pepper Steak is a 'Best-Seller', and has a delicious pepper taste and a smoky undertone of flavour for anyone who adores the outdoor cooking flavours of a BBQ or smoker. 
Honey-Soy Garlic is a specialty, giving you a lovely taste of Sweetness mixed with the shaper notes of Garlic that get the sensations stimulated. 
Mild Chilli is for the spice lovers of an entry-level that want to experience the modest heat. This pack is carefully crafted with succulent home-ground chilli-flakes and a soft creamy chilli paste.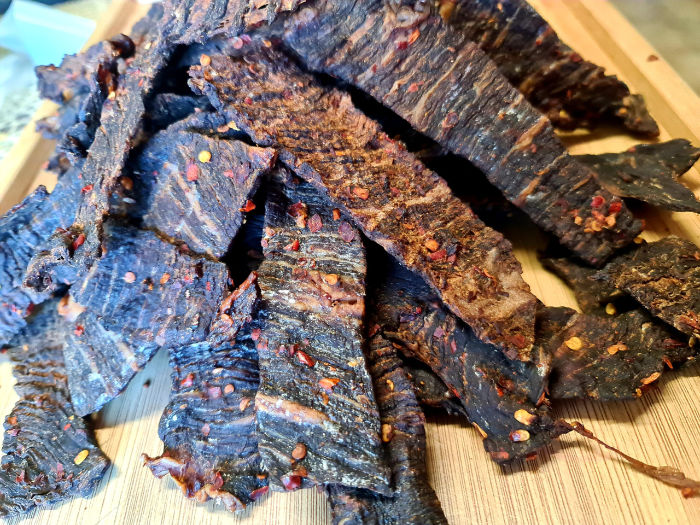 This pack gives you 50g of each flavour, and gives you the chance to taste everything in fun little tasting portions! Try it out and find out what you adore most from our selection!
Now, you can purchase a gift card directly from our site and send it to your loved ones to shop our delicious jerky.
"Most amazing I ever had!!"
"Amazing taste, and juicy Jerky!! Best ever!!"
"I always visit here, and they always surprise me."
"A must visit for every jerky lover"
Gibson Country Style Jerky
The best in the South west